Tank Replacement
Oil Tank Replacement And Removal
All Size Tanks
Residential Heating Oil Tank Replacement
Commercial Oil Tank Replacement
Above Ground And Inground
Soil Testing And Contaminated Soil Removal
We provide expert oil tank services to both residential and commercial property owners. Services we provide includetank removal, oil tank decommissioning, underground oil tank locating, soil testing, tank replacement and contaminated soil cleanup.
In addition; we also offer attractive and affordable tank covers and tubs for all outdoor tank installations.

Chimney Maintenance
Chimney re-lining is generally needed when a masonry chimney has been damaged, unsafe or un-repairable and/or the appliance being connected to the chimney requires a liner. The advantages to a chimney liner is improved draft by sizing the liner to the appliance, hotter core temperatures, improved safety, easier cleaning, and longevity. Chimney liners vary widely in size, type (wood or gas), and quality. We can expertly recommend and install liners following all manufacturer recommendations.
Our chimney services include creosote clean out, stainless steel chimney liners, installation of stainless steel chimney caps, install chimney dampers, and clean-out doors, chase covers and all masonry repairs.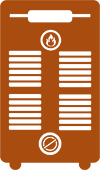 Oil to Gas Conversion
Ariba also provides professional oil to gas boiler and furnaces conversion services, for commercial and residential locations throughout Northern New Jersey.
At Ariba, our team of plumbing & heating technicians truly master the process of oil to gas conversion, and are always ready to assist with converting your home or business.
We will help you throughout the whole conversion process, from removing the oil tank and boiler to installing the full gas heating system.

Duct Cleaning
Ariba also provides professional duct cleaning services. According to the U.S. Department of Energy, 25 to 40 percent of the energy used for heating or cooling is wasted. Contaminants in the heating and cooling system cause it to work harder and shorten the life of your system. Although filters are used, the heating and cooling system still gets dirty through normal use. When an HVAC system is clean, it doesn't have to work as hard to maintain the temperature you desire. As a result, less energy is used, leading to improved cost-effectiveness.